Your restaurant business is the talk of the town. So now, naturally, you are looking to expand in other areas or even PAN India!
One of the most viable ways to have multiple outlets of your restaurant without draining money away from your pocket is franchising.
With franchising, a single outlet with a successful brand can exponentially grow its profits. Despite having limited resources, the ROI can reach a hundredfold.
To give you a success story,
"The La Pinoz franchise business, in just 12 years, has built itself a brand that competes with the likes of Domino's & Pizza Hut. They have 350+ outlets in Pan India."
In this guide, we will learn the ins and outs of franchising your restaurant business, the steps to becoming a franchise, what your franchise needs to be successful, the advantages & disadvantages of a franchise, and much more.
Let's understand what is a franchise.
Franchising is when a business owner (franchisor) gives legal rights to a 3rd party (franchisee) to use its brand name, business systems, trademark, processes, and more to replicate the original business, down to the T, in a new locality.
For the franchisee, it's the equivalent of copying a good student's homework.
In return, the franchisor receives some initial fee, % of profits, and loyalty fees. Besides the monetary value, the franchisor gets to make its brand widely recognizable and capture market share in new localities.
We can safely say the advantages of franchising your business are limitless.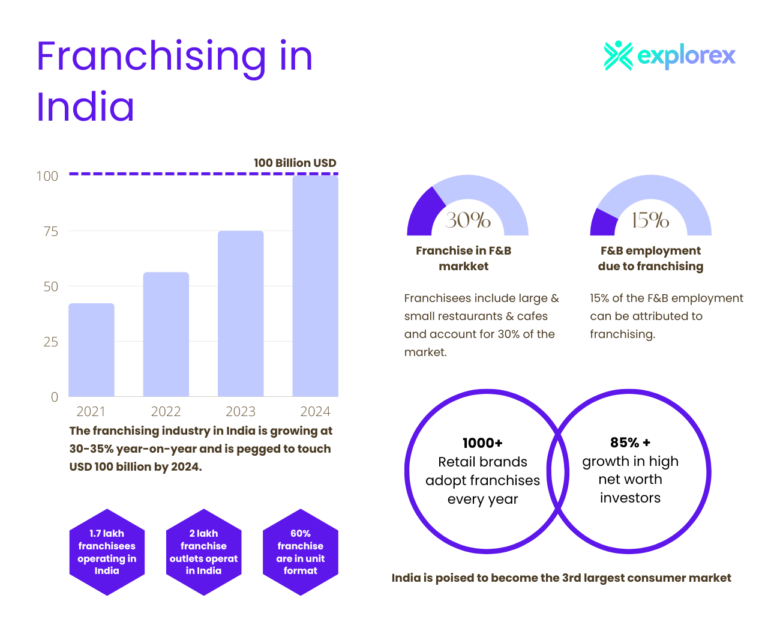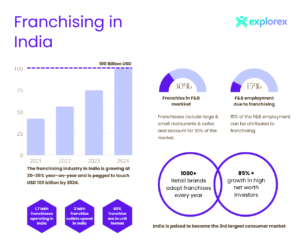 Let's look at some disadvantages for a franchisor, you lose some control over your brand, as you cannot entirely dictate where your stores are opened and by whom. Additionally, you have obligations towards your franchisees, as you become the backbone support channel for your franchise business.
Further, you need to train & supply your franchisees with essential information and raw materials, create supply chains, & do a ton more things. Despite all your support, still, you won't have much control over the success or failure of an individual franchisee. Therefore, there are risks involved, not to say anything of your time spent and the mental toll on yourself. So be prepared for the hard work ahead.
Now, let's look at a few basic requirements to assure your restaurant is franchisable.
Minimum requirements to start your franchise
Answer these few questions;
Is your current outlet successful?

Is your restaurant business replicable?

Have you trademarked your brand?

Do you have sufficient initial investment to support franchisees?
3 must-have things to start a restaurant franchise
Profitable restaurant

Maximum process automation

Legally safeguard your brand
Profitable restaurant
The main appeal, for a franchisee, is to acquire a business that is making a killer profit.
People become a franchisee as opposed to starting their restaurants because it gives them good odds of making money in the market.
Therefore, they only want to partner with a franchisor that will assure them near-guaranteed success. So make sure your business is profitable for people to invest in it.
Process automation
The soul of a food franchise is in its services and menu items. So it becomes indispensable that these services and menu items are easily replicable by virtually anyone. To make that happen, you must provide strict instructions on how your restaurant operates & its processes.
To achieve that, take a hard look at your restaurant and segregate, & automate all menial tasks, then note down all the happenings in your restaurant, and make an instructional manual, a.k.a., a bible of how your restaurant operates.
Once you create these SOPs (Standard operating procedures) around your restaurant, it will become the north star of franchisees, guiding them in their endeavors of running their new business.
Legally safeguard your Brand
You have built a formidable brand for your restaurant, a brand that has a loyal customer base and is always in the limelight.  
These are the things that propel your business, so it becomes essential that partnering with franchisees does not ruin your hard work, or get stolen.
Therefore, before starting a franchise, make sure to file the required documents that protect your brand from any wrongdoings, documents such as patents, licensing, trademark registration, disclosure documents, franchise agreements, etc.
Steps for starting a restaurant franchise
Create a profitable franchise prototype

Define franchise profit channels

Legal agreements

Franchise agreement

Franchise disclosure agreement

Marketing plan

Training plan

POS software
Create a profitable franchise prototype
Try the "do-it-yourself" approach first if you can, and if your budget allows, try to replicate the business yourself in a familiar locality. This new outlet will give you hands-on experience and more than enough knowledge about hiring, management, SOPs, budget, and overall cost required, among other things.
Make this prototype outlet profitable to confirm the validity of your food franchise. This will give you insights into franchising, a practical experience, and a proper structure to follow with other franchisees. 
Define franchise profit channels
Once you have a profitable franchise business, you can decide how much to charge franchisees for licensing your brand. After all, it's how you will be making money. You can do market research, find a similar business to yours, and see how much it costs to own their franchises.
For example, La Pinoz charges an initial franchise fee of 10L and a 4% annual royalty.
Apart from these two fees, franchisors can create additional profits by up charging from providing other services & benefits to its franchisees like the employee training program, supplies & equipment, raw materials, advertising funds, interests, etc.
In India, there is no singular law that governs franchising, instead, there are 10+ acts that combined govern franchising. They safeguard your brand and help you avoid costly mistakes. Therefore, creating a franchise agreement that adheres to these acts is a must.
The franchise agreement is between the franchise owner & franchisee. You want the agreement to include all the details as precisely as possible. The agreement will not only include details on franchise fees and royalties, but also bankruptcy, litigation, obligations, trademark, and more. This agreement is a protective shield for your franchise business.
Franchise disclosure document (FDD)
The franchise disclosure document is a list of 23 details about the franchisor that help a franchisee asset business opportunity with the franchise. The FDD, by law, is a required document to be given to a franchisee. This will help the franchisee make the final call before signing the franchise agreement.
Marketing plan
The expansion of your franchise depends on how well you market your brand and bring in franchisees. For the 1st year, you should focus on quality than quality, scaling too quickly can do more damage as your franchise is still new. Therefore, start with only a handful of franchisees and focus on building a solid process, and a restaurant business plan.
You can partner with an agency that only deals with franchising & growth. They market your brand online, create digital campaigns, provide strategies to build your online presence, generate leads, & more, which can get you your first franchise outlet. They may even help you handle the legal paperwork. (Otherwise, you can get specialized lawyers who only deal with franchise law.) 
Alternatively, you can register your food franchise on sites like India franchise, they give your brand visibility and drive potential franchisees your way. Once you get your foot in and open up a couple of franchises, the hard part is already over. Learn from these experiences, then you can comfortably scale your franchise business.
Training plan
After setting up the marketing plan and licensing your franchise to franchisees, onboarding members is the most crucial part. These will require you to have all your SOPs, system manuals, and supply pipelines, in place to support the franchisee. And most importantly, a training plan for franchisees & new hires.
The training can take anywhere from days to weeks, it can take place at your headquarters, a training site, or as an online program. It entirely depends on you. By implementing the training plan, you ideally wish to instill your brand values, philosophy, mission & vision into the new franchisees.
POS software
You will provide your franchisees with POS (Point of sale) software and other digital services, which you use at your headquarters. 
POS services determine how smoothly a restaurant operates. A good POS system can automate most of your restaurant operations, making it easy for anyone to replicate your restaurant process. However, good POS software may be expensive, and creating your custom POS is a costly mistake.
We recommend you check out Explorex — The rapidly growing ecosystem solution for Indian restaurants.
In this article, we have briefly touched upon all the essential information you need to know to start your franchise. However, more exploration is encouraged. We will be releasing deep-dive articles on franchising & other relevant topics.